STRING THEORY
visual | kinetic | music
String Theory is a hybrid performance ensemble combining signature architectural harp installations, original music, dance, and projections.
L.A.'s genre bending supergroup continues to transfix audiences in the US and abroad with their long-string harp installations where architecture is transformed into giant musical instruments, spaces become resonators, and audiences are enveloped in an expansive site-specific canopy of golden musical brass wire and sound.
Rock, classical, and cutting edge digital styles converge in a lush and compelling soundtrack supporting kinetic contemporary movement, with stunning costumes and projections, creating an immersive multi-sensory environment.
 
"Sounds absolutely incredible." BBC ~ The World Today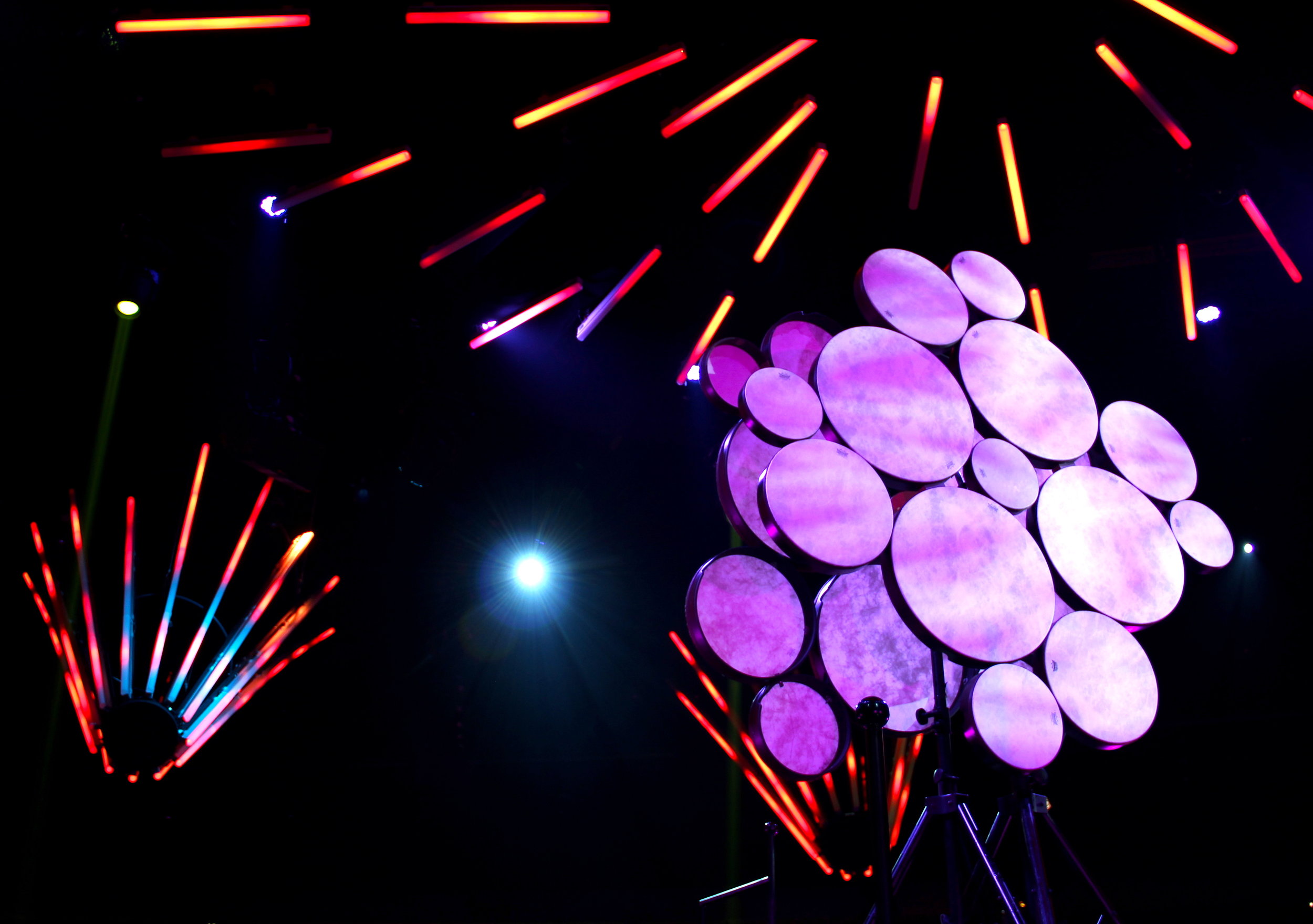 THE TEAM: STRING THEORY PERFORMERS
A SELECTION OF PRIOR CLIENTS:
The Gothenburg Fringe Festival, Gothenburg Sweden
LACMA Collectors Dinner
The Getty Villa
Ellen DeGeneres 60th Birthday Bash
Sundance Film Festival, An Artist at the Table
Institute Of Peace, Washington DC
66th Annual Emmy's Awards
TEDx, Palm Springs CA
The Broad Performing Arts Center, Santa Monica CA
Palm Springs Art Museum, Palm Springs CA
Santa Barbara Museum of Art, Santa Barbara CA
Yerba Buena Festival, San Francisco CA
The Getty Center, Los Angeles CA
Art Of The Brain Foundation, Los Angeles CA
Sunnylands, Rancho Mirage CA
Smithsonian Institute, Washington DC
Hayden Planetarium, New York NY
Bayou City Arts Festival, Houston TX
Arts Earth Partnership, Los Angeles CA
The Broadmoor Celebration, Colorado Springs CO
Vancouver Art Museum, Vancouver Canada
Vibiana Catherdral, Los Angeles CA
Union Trust, Philadelphia PA
Bechtler Museum of Modern Art Charlotte NC
John Anson Ford Theater, Los Angeles CA
Eagle Rock Arts Center, Los Angeles CA
City Hall, San Francisco CA
Fiestas de la Vendimia, Baja Mexico
Levitt Pavilion Los Angeles - MacArthur Park LA CA
Straz Performing Arts Center, Tampa FL
Miles Memorial Playhouse, Santa Monica CA
Christine Emerson Reed Park, Santa Monica CA
Festival Mosaic, San Luis Obispo CA
Tonga Park Grand Opening, Santa Monica CA
Vina Robles Festival, Paso Robles CA
Tempe Performing Arts Center, Tempe AZ
Los Angeles Annual Ovation Awards, Los Angeles CA
California Science Center, Los Angeles CA
Museum Of Contemporary Art, Los Angeles CA
Navy Pier, Chicago IL
California Plaza, Los Angeles CA
Mission San Juan, San Juan Capistrano CA
Salk Institute, La Jolla CA
OCPAC Performing Arts Center, Irvine CA
ALOUD LA, Aratani Theater, Los Angeles CA
Pacific Design Center, West Hollywood CA
Taste3 Conference, Robert Mondavi Winery, Napa, CA
Warner Music Grammy Party, Los Angeles CA
VivoCity, Singapore
The Sundance Channel Iconoclast Series - NYC's American Museum of Natural History, NY NY
The Exploratorium, San Francisco CA
The Cold Storage Series, Los Angeles CA
48th Annual Official Grammy Celebration - Los Angeles CA
With Sheryl Crow for the Grand Opening of the Ritz Grand Cayman, Cayman Islands
Grand Opening of The Cira Centre in Philadelphia
Philadelphia Museum of Art at the DALI exhibition, Philadelphia PA
"Rock for the Cure" Caesar's Pavilion Las Vegas, with Rod Stewart, Jewel, etc, LV NV
The Hammerstein Ballroom, NYC with Donna Summer
Hollywood Bowl, Summersounds, Hollywood CA
Constitution Hall, Washington DC
25th Anniversary Party for MOCA LA
Dorothy Chandler Pavilion for LA Now, POW-WOW! Los Angeles CA
The Pleasure Garden, Barnsdall Art Park Los Angeles CA
The Walt Disney Concert Hall Opening Festivities, Los Angeles CA
VoyageLA

http://voyagela.com/interview/meet-holly-rothschild-string-theory-venice-live-city/
LA Dance Chronicle
Los Angeles Dance Festival ~ Performance Review by Joanne DiVito
STRING THEORY performed "LANDSCAPE ONE" during the 20-minute Intermission done out on the courtyard. Choreographed by Holly Rothschild in collaboration with the dancers, it was a gorgeous piece, which the company considered to be a "work in progress" yet managed to transform the audience.
The dancers and musicians all in white were stunning, not only because of their stature but because of their technical expertise. There was 5 silver strings with notes attached draped from Pillar-to-Post with the lovely Andrea Sobke, plucking those strands. The strong lyrically exquisite dancers, Danny Dolan, Lavinia Findikoglu, Kearian Giertz, Andrea Sobke, and Carissa Songhorian were powerful, along with being technically striking. They moved in and through the space with such control and beauty one did not want to miss any moment of their story telling.
The musicians were rhythmic, dynamic and aesthetically powerful, with the clear tones of Violinist's and vocalist, Julie Pusch, who transformed the space into a kind of ancient temple of pure art. The musicians included Robert Amjarv, Vivek Maddala, Danny Moynahan, Holly Rothschild, Luke Rothschild, Gavin Salmon, and Andrea Sobke.
EP review
Artist: String Theory
Album: Stories EP
Reviewer: Alice Neiley
So, I'm curious: have you ever seen harp strings stretched 100 feet through and around buildings? What about a tutu-harp? Yes, you heard me. A ballet tutu that's also a harp, and the dancer wearing it plucks the strings with her hands, gongs them with her feet—she literally plays her costume.
String Theory, a hybrid performance ensemble out of L.A., is comprised of across the board talent, from dancers and musicians to set designers and architects. The quote from their bio that really struck me, though, was this: "Architecture is transformed into giant musical instruments, spaces become resonators, and audiences are enveloped in a giant canopy of golden musical brass wire and sound."
Which, of course, is why I researched the extensive press the group has received, leading me to photos of the tutu harp. When I finally dipped into the listening process, I was not surprised to realize that these artists live up to their hype.
"The Story," track number one on Stories, begins with a mystical backdrop of acoustic instrumentals with an emphasis, not surprisingly, on harp. With the entrance of percussion, the tune gathers momentum, setting us up for vocals and a consistent sprinkle of electronic effects. The unexpected chord changes in the chorus—'cause I do for you/to be true for you,' are supremely satisfying, as they fit with the mellow, contemplative vibe, while at the same time turning our predictions upside down. However, the percussion—its diversity and steadiness—is by far the strongest element of this tune. It's the gravity. It draws everything together, provides a home base for all the other instruments as they wander into the ethereal.
Speaking of ethereal, though the next track, "Sunnylands," is minimalist in comparison to "The Story," it holds fast to the feeling of being enveloped in sound—sound that brings sensation and images along with it. "Sunnylands" is like slow motion journeys through new and astounding forests, leaving us listeners gazing around in wonder. The vocals are sandpapery and low, again providing a gravitational pull to balance out the dreaminess. When the chorus arrives, the scene suddenly changes, offering up a little surprise, a little action. Guitars, strings, and drums take over, jolting us out of the forest, as if we've just seen a lost love, or the city, or the sea.
The next two tracks, "Stones" and "Witch," veer the album onto a more rock-like landscape in very unconventional ways, for better and for worse. "Stones" begins like a secret, a soft conversation between guitars, strings, and echoey drums with a vocal overlay. The harmonies are Elliot Smith inspired, and the combination of it all makes one want to cry, in a good way. However, mid-track, the music does a complete 180 degree turn into classic rock—intense electric guitar solos, hard drums, and vocals that sound more like The Clash stumbled onto the wrong stage. While I appreciate the attempt to be innovative, "Stones" sounds like two different tunes…two that wouldn't necessarily fit beside each other on the album, let alone in the same track.
Unfortunately, the shift in "Stones" doesn't even lead flawlessly into "Witch," which begins with acoustic guitar, strings, and high register vocal harmonies. However, the tunes do mirror each other in terms of structure, suddenly shifting from mellow to angsty/energetic. The transition from one rock subgenre to another in "Witch" is slightly less abrasive and more gradual than in "Stones," mostly because it keeps the a similar rhythmic skeleton throughout, even when the tempo and layers of instrumentation (electronic effects, a wall of drum sound, electric guitars, etc.) increase. Also, the ending is amazing: all strings, all the time—slow and haunting.
And we're back to the great transitions that opened the album. After the lovely string featured ending of "Witch," String Theory places "Energies," which begins with more string features, backed by acoustic guitar and light drums. Perhaps my favorite song on the album, "Energies" perfectly walks the tightrope between classic and alternative rock, with equal parts electric and acoustic, not to mention the delicious transition from soft-edged melancholy in the verses to a more desperation laced chorus, complete with fantastic vocal harmonies. There's also that very short but enticing outside-the-exact-rhythm drum moment toward the end of the tune, just after the vocals cut out, and just before all the other instruments fall away too, leaving us with piano and strings, sometimes in unison, sometimes harmony, but all the time slow and haunting, right up until the album ends.
Original is absolutely the name of String Theory's game, and even in the overly ambitious moments on Stories, there's something to commend, whether it's an interesting instrumental solo or a unique placement of harp or strings. The album certainly lives up to the group's acrobatic reputation, though I will say it's tough to create album fluidity when you're so genre flexible. String Theory will have to put their brilliant noses to the grindstone for a little extra time in that area. But what an inspiring thing they have going, and honestly, if you can make a harp that a dancer can wear and play, if you have the innovation to wind harp strings through/around buildings and put together an interesting, listenable album, you're in the musical genius world to stay. Keep refining each gem, String Theory, and you'll keep exploding our minds.
"Remembering Water" by Debra Levine for Arts Meme
Everything about "Remembering Water," a fully integrated dance-and-rock-music pageant presented by Los Angeles-based String Theory, and repeated next weekend at Santa Monica's charming Miles Playhouse, is pure joy.
Spooling through 13 staged songs for a nicely compact 65 minutes, the highly versatile and handsome troupe of eleven (seven musicians, four dancers) radiate a spontaneous pleasure in performance that is rarely seen, and difficult for viewers to resist.
A promising sight greets the audience upon arrival: a stageful of powerful musical instruments including five medium-sized kettle drums, a huge string bass, multiple electric guitars, drum trap-set and slicing the air space, Luke and Holly Rothschild's signature, long-stringed harp deployed as a sculptural centerpiece. Twanging and plucking this instrument cleverly converts to a dance occasion. String Theory uses every inch of the proffered square footage, including a smallish but beautifully lit raised stage, with wood-floored performance space stretching toward the audience seated on risers. Even the corners of the room host activity; at one point, an upright piano gets dragged across the space while being played.
An excellent quartet of dancers traipses in and out of the program, as though in a variety show. Two slender, leggy leading ladies, Livinia Findikoglu and Andrea Sobke, garbed like vixens in black mini-skirts and bare legs, squirm and squiggle like the final water drops shaken from a garden hose. Joined by Danny Dolan and Tess Hewlett, the foursome (well) execute Holly Rothschild's athletic pairings; they also take up unusual tasks. They sing do-wop-style at standing mikes; they bang drums behind Holly Rothschild's demonic leadership; donning harnesses, they stretch the strings of a living harp across the stage. In my favorite episode, each dancer drags a tiny amplifier by a long chord, like a tiny pet poodle or a child's piece of luggage, spilling forth ambient sound, primarily heavy breathing, while moving and posing. It's a witty extension of the evening's stringed motif.
The creativity is keyed on thirteen original songs, some soulful, even celestial. While the music errs toward a mystical cultish tone, it doesn't take itself too seriously, with one number entitled, "Dirge." And indeed it is. Everyone sings; I like this, but Robert Amjarv strongly leads in this area. The band finds a driving force in Julie Pusch's whining violin – she, too, doubles and triples her duties, singing, playing the synthesizer and then piano.
What most appeals to this viewer is the choice performance space, the vintage and spiritual Miles Memorial Playhouse. The Spanish Colonial revival style playhouse, dating to 1929, seems to be thriving under the careful stewardship of landlord The City of Santa Monica.
The Broad Stage review by Nicole Campoy-Leffler Fine Arts LA
Last Saturday evening, Sring Theory took tlre idea of Valentine's Day to a new level of shock and awe. Their signature, large resonant sringed instrument (they install one everywhere they perform) ran strings above the audience's heads, one performer came onto stage in a skirt that stre could play, their violinist played her instrument seven different ways, and they finally proved the theory that stilettos are indeed a form of percussion. The most shocking of all was how beautifully they perfornred. I don't mean to say that my expectations were low. Instead, I mean that they managed to merge their esoteric vision of Valentineos Day, well choreographed modern dance, wild costumes with stilts, custom-made instrumentso and taditional insffurnents into apackage as exciting and spectacular as anything you would have wanted to see on any Sahrday night. Perhaps that's why they need fifteen members.
The Broad Stage continued in the way of making this a Valentine's to remember - String Theory's performance was one in their series called "After Party with ttre Artists". Described as nights designed for "those who believe art and fun go hand-in-hand", these prformances are followed by a catered party held at a venue outside of the theatre. On Saturday, we were directed to the Fainnont Miramar Hotel where the new restauranL
FIG, provided the catering. Not only were the artists there to meet and receive praise, but some even continued singing and playing music. The party was an absolute succsss, almost giving couples with no post-performance plans a "get out ofjail free" card- They had a room set up with a photographer taking pictrnes of couples and singles with love- the,lned captions, an inesistible assortment of dessertso and since ttre hotel is conveniently located near the Santa Monica Pier, we saw an unexpected display of pinh red and heart- shaped fireworks. All in all, it will be a difficult evening to top next year.
- By Nicole Campoy-Leffler
String Theory on a new thread at the Broad Stage
String Theory, L.A.'s 'big secret,' unravels its latest fusion of dance and performing art at Santa Monica's Broad Stage.
|By Jason Kehe, Special to the Los Angeles Times
String Theory, a Los Angeles-based hybrid performance act that combines dance and a kind of sonic sculpture, has little to do with the field of particle physics that gives it its name. However, the two disparate entities do have one striking thing in common — most people have no idea how to explain either one.
There's no "one-liner elevator speech," as one of its dancers put it. "It just is," said another.
Even Dale Franzen, artistic director of the Broad Stage in Santa Monica, can't quite categorize the root genre of the show.
"I don't know what to call it, they don't know what to call it," she said. "It's String Theory; it's its own genre."
Which might be why she has brought it back again. Audience members were "flabbergasted," she said, when String Theory first performed at the Broad two years ago on Valentine's Day. This Saturday, String Theory will reprise that performance — but, because of the protean nature of the show and its creators, it will be an entirely new experience. New movement, new arrangements, a spectacular that has been unwound and rewoven again.
For most performance acts, changing venues means readjusting sound levels, maybe redoing some blocking. But for String Theory, moving from one stage to another means physically transforming both show and space.
For String Theory to work, every venue must be transformed into a massive instrument, a room-sized harp. Strings for that harp will stretch from a 6-foot resonator on the Broad stage, for example, all the way to the balcony ledge. At every venue, that distance is different and sometimes those strings can stretch to almost 1,000 feet — and remain perfectly playable. The harp has been re-created at the Kodak Theatre, Getty Center, L.A. Convention Center and Walt Disney Concert Hall, among other venues.
But the giant harp is just the beginning.
String Theory is a fusion of dance, sculpture and music. It's no accident that its three co-founders are each specialists in one of those fields. Holly Rothschild is a trained dancer; her husband, Luke Rothschild, is a sculptor and rock musician; and Joseph Harvey is a classically trained cellist. In 2002, they teamed up to form String Theory, recruiting collaborators from their respective spheres.
The score is defiantly eclectic, jumping from 15th century Spanish Renaissance to pop to modern rock to electronica. And don't overlook the multimedia video elements playing in the background.
But the best part is the custom-made instruments, like that harp. In addition to cello, violin, guitar, saxophone, flute, keys, bass, drums and sampler, String Theory performers play on purely invented creations such as the skirt harp, a tutu-shaped instrument with massive poles shooting out from the dancer's waist. Another musician plays a theremin on stilts.
"It almost has to be seen," said Alesia Young, one of the dancers and harpists. "You do it a disservice by finding language to describe it. It's an experience."
Where String Theory breaks from particle physics is in accessibility. Despite its myriad influences and alternately alien and retro aesthetic, the show, Luke and Holly Rothschild insist, isn't some rarefied, self-important, art-for-art's-sake showcase. It is, in their words, "apolitical, utilitarian and blue-collar."
Neither of the Rothschilds are precious about the show, which they treat as roll-up-your-sleeves work. "I've never played a show clean in my life, because I'm so dirty from the setup and from hauling pig iron and sandbags and drilling," Holly said. "I've always slapped on the foundation over a bunch of dirt."
According to Luke, their goal is to "communicate pleasure and create something beautiful."
String Theory also engages in educational outreach, and Luke works with the others to score movies.
For Franzen, all of this fit right into her mission at the Broad, which is to promote Los Angeles-based artists who are embracing the unique. When she asked Luke and Holly to re-create their show from two years ago, the vaguely love-themed "14 Lengths of Desire," for the Broad's new season, they began deconstructing; Holly, who also directs and dances in the performance, took out old pieces, developed three new dance numbers and worked with a collaborator to add new video elements. It's safe to say that what they're bringing on Saturday has never been seen before.
"They're kind of like a big secret in L.A.," Franzen said. "The rest of the world doesn't know about them yet, and they should."
String Theory
Where: Broad Stage, 1310 11th St., Santa Monica
When: 7:30 p.m. Saturday
Soma Magazine
SOMA
The Fall Fashion Issue
TEXT BY Shilpika Lahri
PHOTOGRAPHY BY Christa Mae Photography
ARCHITECTURAL HARMONY
Like the physics theory after which it is named, String Theory, too, attempts to blend together two seemingly conflicting areas. While the former aims to harmonize quantum mechanics and relativity, the latter combines music, dance, and sculpture. This venture is such new territory that even String Theory co-founder, composer, instrument designer, and performer Luke Rothschild had some difficulty explaining precisely what it is that the group does and admitted that he's "still working on the elevator pitch." However, he did manage to summarize it as, "an amalgamation of performance elements that combine into a site-specific,
immersive performance environment that is design-oriented."
Using large musical and instrumental installations, Rothschild creates an environment that truly captivates the audience. Long strings and drums are physically integrated into the performance location and are played during the shows. His sculptures interact with the space
not only sonically but also "physically and aurally." He added that these concepts haven't even truly touched the surface of what could be explored.
The idea for String Theory originally stemmed from Rothschild and his two friends, now choreographer/director Holly Rothschild and cellist/composer Joseph Harvey, who met from intersecting circles and began the ensemble as a unique mixture of music, choreography, and architecture. Rothschild explained that the name of the group came to light when he and his wife, Holly, attended Idea Festival in Lexington, Kentucky about 11 years ago. There, they attended a lecture conducted by Brian Greene, "relatively hip ambassador of the mathematical string theory to the public." Holly, inspired by Greene's mission to explain string theory to the masses and by his presentation involving the metaphor of string instruments (specifically the cello), proposed using the name to her husband.
While String Theory was born in Chicago (where the founding members studied), the group moved to LA to take advantage of the media hub. The group currently writes scores for television shows and films, creates music videos, and performs anywhere
from concerts to corporate events. Often compared to Cirque du Soleil for its capacity and creative style, String Theory is still rather different, said Rothschild. Acrobatics aside, he agreed that both are "unique, visual, [with] bodies moving... and it's sonic, a kind of experience that you don't normally have." However, String Theory does not quite adhere to Cirque's model: a model that has talented directors using performers' bodies merely as a means by which they can portray their work. Instead, String Theory allows the performers to choreograph, compose, etc. themselves. "There's a lot more heart [in our work]," said Rothschild. He added that they don't function on the same budget as Cirque, which forces String Theory performers to be more flexible and adaptive to their environments.
Additionally, Rothschild noted that his wife's distinct choreography distinguishes String Theory from other modern dance groups: "Holly's developed a vocabulary of movement to play [the string installations]... She brings in these really clear, specific, and resonant images throughout the show, [which] kind of pepper through, and they have a moment. And then it's done. And then it's eventually something else. It's like a visual language of sonic vignettes that accompany the music and the sometimes projection."
Rothschild mentioned that String Theory has also been compared to Blue Man Group for its affinity for audience interaction. While it's not the main focus of their performances, they enjoy connecting with show-goers and often use humor to lighten the mood, said Rothschild. Like Greene, String Theory attempts to bring its modern performance style to the masses, transforming a potentially esoteric art into something more attainable. As String Theory grows, Rothschild anticipates it will extend past the country's borders to explore a more global audience. Specifically, he hopes that the performances and installations will become culture-specific. While the group's core currently consists of about eight people and 12-14 freelance performers, it is constantly expanding by "artistically" networking (via dance classes, etc.). Rothschild is optimistic for the future: "I see the group growing in the same direction as we have been, but just on a larger scale: doing even grander scale installations and performances in the US and internationally, working on higher profile feature films and collaborations with established directors and creatives."
L.A. Weekly
by Matthew Duerston
Cut to a crumbling brick theater space in a tagged and trash- strewn part of East Hollywood. Three female dancers from an ensemble called String Theory flit and dive among sparkling webs like water striders across a pond. They coil their bodies and spring, their arms pushing along the 70-foot wires, literally "throwing" the sound across the room. One lies on her back and plays the strings, snaking backward across the floor. With every tug and stroke, the vibrations that emerge from the harp- shaped, hardwood-and-copper resonating chamber onstage are radically different: One player draws out stately melancholy; two people can simulate chirping crickets, a hurdy-gurdy or a boingy sitar. Any more than three, and the audience becomes mice inside a grand piano, trembling in shock and wonder.
...String Theory reside, record, build and practice in a sun-stippled cottage in Venice. They've transformed Washington, D.C.'s Kennedy Center, the L.A. Arboretum, the Milwaukee Art Museum, New York's Waldorf- Astoria, San Francisco's Exploratorium, Atlanta's CNN Center and Seattle's Space Needle into enormous instruments. They invent "sound objects" with ethereal, playful titles: Curve Harp, Wing Harp, Cyclo Drums, Vertical Harp, Ray Harp...— in other words, things few who see them have ever heard (of), but from which people walk away as if they've been touched, or at least bopped on the head. "Performance-wise, the long strings are spectacular to look at," says String Theory co-founder Luke Rothschild. "For writing music, they have a unique sound that can't be generated on any sampler— I know, I've tried."
Long strings work differently from standard ones. Brushed or stroked lengthwise with a rosined glove, they expand and contract, their longitudinal (or "compression") waves traveling at freakishly high speeds. Each has a distinct pitch; there are clamps at various points — similar to guitar capos — to alter tunings according to the environment. They have better resonance at longer lengths and stretched just under their breaking points. They revive a little of the primeval awe that music must have once inspired, the rush of religion without the flummery. "With traditional instruments, there's an expectation of melodic progression," explains Rothschild. "The long strings, they can hover in space. It allows you to let go of an expectation of time."
Long-string instruments (also called LSIs or just "long strings") are descendants of the huge outdoor wind harps of the 17th and 18th centuries. Today, they're utilized by a small group of American and European composers, including Ellen Fullman, whom ... String Theory ... name as a prime influence. Fullman is a Seattle-based composer/visual artist who started experimenting with sound art at the Kansas City Art Institute in 1978 and built her first LSI prototype in St. Paul, Minnesota, in 1980. Fullman cites the Delta blues musicians she heard growing up in Memphis as a major influence. Turns out they were weaned on a contraption dating back to the 1800s called the "diddley bow," a length of broom wire stretched along the sides of houses (or from floor to ceiling) to pluck while sliding a rock or pill bottle along its length. The diddley bow cut the young chops of the finest blues guitarists — Muddy Waters, B.B. King, Charlie Patton, Elmore James and Robert Johnson on the shortlist — and furnished the nickname of Bo Diddley, who as a boy studied stringed instruments on Chicago's South Side.
... the six-piece String Theory is more of a rock band with classical overtones. This minstrel-like multi-instrumental group has covered Ravel and Tchaikovsky, and is fond of perverse meldings: Otis Redding's "(Sittin' on) the Dock of the Bay" with the Pixies' "Wave of Mutilation," or Fleetwood Mac's "Dreams" with Shostakovich's Sonata for Cello and Piano, Op. 40. Cellist Harvey was raised on bluegrass and classic rock before studying the early liturgical music, baroque fugues and Victorian choirs he adapts and arranges for the others. As a dancer, Holly Rothschild took to the physicality of playing long strings, rehearsing for two weeks using cotton strings instead of wire. "The rest of the group comes in and starts writing the music around the dancing," she says. "The actual song will be a result of the choreography, so we don't even know what a particular piece is going to sound like."
This unpredictability and unwieldiness — it takes from six hours to two days to string the installations — has hamstrung mainstream acceptance for ... String Theory. "We don't know where we want to take it, because we're going in so many different directions at once," says Harvey. But both ensembles are accessible, allowing audience members to play the strings after their performances; kids and parents stream like spellbound ants to stroke the giant web with gloved hands.
The strings attract other creatures. "It never fails, and it blows my mind," says Luke Rothschild. "We set these things up, and within a couple of hours you start seeing these little wispy strands coming out from the strings. I don't know where those little spiders come from or how they figure it out, but after about five hours, there's a lot of them, like they're kind of testing it out for the mothership."
String Theory plays at the Creation Festival at Walt Disney Concert Hall on Saturday, November 8, from 10:45 to 11:15 a.m., and will have its Curve Harp set up for an interactive installation until 3:30 p.m. www.stringtheoryproductions.com.